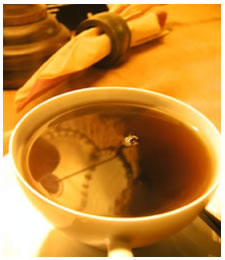 Royal MajesTea is proud to offer you selections of the highest quality teas and tisanes (herbals) available worldwide. We are excited to provide you choices that will stimulate your taste buds, creating experiences you would want to enjoy many times over.
Feel Better, Look Younger!
Imagine cooling off with a cold refreshing glass of your favorite Iced Tea on a warm evening or feeling a relaxing  sense of serenity while enjoying your favorite cup of Oolong or Chamomile after a stressful day. 
Let us help you create your relaxation regimen using tea as the catalyst. Tea isn't just for drinking anymore! although tea is full of antioxidants and flavonoids that are beneficial in supporting improved health you can reap the benefits of tea in many ways. Do you wish you could escape to a spa at the end of a hectic day ? Now You can have your own spa escape at home, enjoy a nice hot bath with some Lavender or Ginger Lime Bath Salts or just use them to soak the tiredness out of your feet. You want to relax but only have a few minutes before you are off to your next event? how about a quick refreshing facial and cup of tea?
Royal MajesTea has developed a new BodTea line of products that enrich the skin, so check out our massage oil and unscented tea oil recommended for use when pregnant. We are also currently working on a cookbook to share creative and delicious ways to use tea in your daily meal preparation.